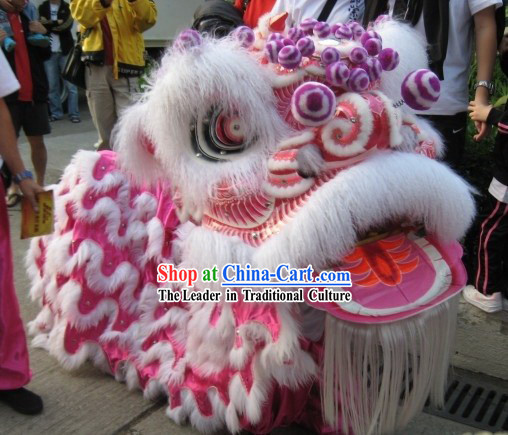 Delivery: As the leader in traditional costumes which has the largest stock, we offer 1-7 days FREE worldwide shipping via UPS, DHL, EMS or FedEx

Size: Professional Adult Size 2 which suits most adult (Size 1, 3, 4, 5 are also in stock. Please leave us a note about the size number you need)s

Characters:
1. Handmade by the finest traditional craftsmen using top long natural sheep wool, Pure silk and durable fabric;
2. The eyes and ears are able to flap;
3. Top Big business opening ceremony celebration quality;
4. Traditional style;
5. Lightweight, easy handle, very durable.

Uses:
1. festival celebration;
2. Big business opening ceremony celebration;
3. Top professional dancing competition;
4. Martial arts practice and performance;
5. Party;
6. Arts display, decoration and collection
7. Professional martial arts practice and performance.

This complete set of lion dancing costume is made up of the following parts:
1. the natural wool lion head;
2. the long natural wool lion tail;
3. the natural wool lion collar;
4. two pair of natural wool lion pants;
5. Two pairs of natural wool lion claws.
6. the lion dancing belt.

Free gifts:
1. Lion dancing Performance Instruction DVD
2. Lion dancing Accompany Music CD
3. Traditional Silk Red Scroll which values $100:



:
http://www.china-cart.com/d.asp d=9226

Be Customized with Your Own Logo Design Free: if you want the traditional craftsmen to Tailor-made your name or several words on Top handmade lion head and the collar, feel free to leave us a message on the order form. This Tailor-made-made service is free.