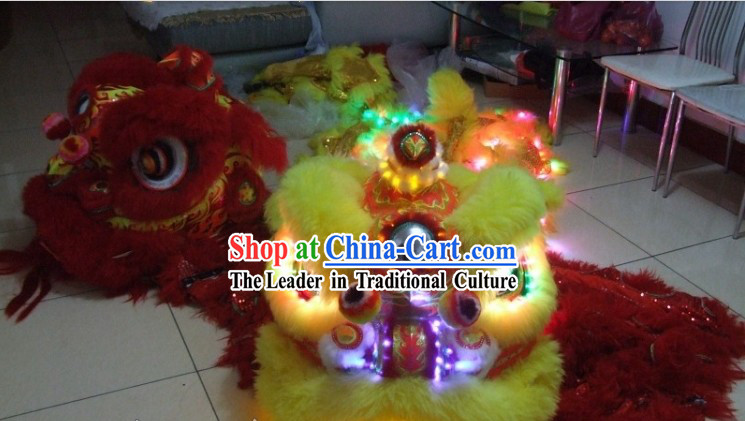 Delivery: 1-7 Days Fast Free Shipping Worldwide by DHL, UPS, FedEx or post office
Size: Size 3 which suits most adults (Size 1, 2, 4 are also in stock. Feel free to leave us a note about the size number you need when you order)
Material: Top 100% natural long wool, high quality durable traditional fabrics and materials
Dimension of Top handmade lion head: 30"x29"x29"
Dimension of the lion tail: 98"x57"
Material: Best quality natural wool, Pure silk and fabric
Color: If you like it to be the same as the picture, you do not need to select color section. If you want to change it, you may select another main color based on our color chart. And our top traditional designers will design the rest for you without extra cost.

Free Made to Order Service: If you prefer to let the top traditional tailors team specially customize it for you, you may select Made to Order on the color/size section and leave us a message containing your color requests or/and your measurements of height, weight, bust, waist and hip on the order form. Red
Handicraft: Well handmade by the finest traditional craftsmen of this workshop.
Uses: Happy festival celebration, wedding celebration, business opening celebration, top professional dancing competition, big business opening ceremony celebration, martial arts practice, display, decoration, collection and stage performance.
This complete set of lion dancing costume contains the following parts:
1. The natural wool lion head;
2. The long natural wool lion tail;
3. The natural wool lion collar;
4. Two pair of natural wool lion pants;
5. Two pairs of natural wool lion claws.

Free gifts:
1. Lion dancing Performance Instruction DVD



2. Lion dancing Accompany Music CD


3. The following The following Traditional Silk Red Scroll which values $100 and being used a lot during lion dancing performance: