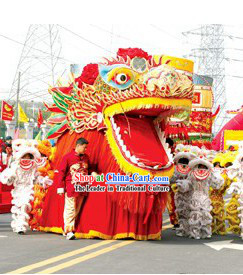 All handmade and painted by the Chinese famous time-honored workshop craftsmen. It is not only a gorgeous and durable set of dragon dancing costume, but also rare pieces of arts, worth collecting.

Material: Pure silk framework, sequins, natural sheep wool

Meaning of the dragon: intelligence茂驴陆茂驴陆bravery, happiness, good luck and prosperity

Use:
1. display
2. happy celebration for big events
3. Top professional dancing competition

Height of the dragon head:100 inches

Delivery: only ship delivery is in stock for this super large and long lion

Delivery period: arrive at your nearest seaport in 20-30 days after sending out

Be customized with Your Own Logo Design Free: If you prefer to let the traditional craftsmen paint the logo and some words on the back of the dragon head, please leave a message on the order form. This tailor-made service is free.