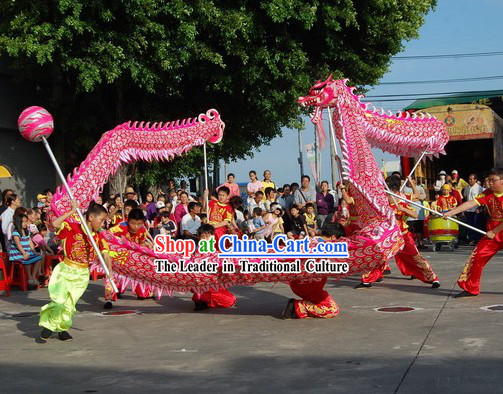 Delivery: As the leader in traditional clothing which has the largest stock, we offer 1-7 days FREE worldwide shipping via UPS, DHL, EMS or FedEx

Size: For 9 or 10 students use

Length of the dragon: 630"

Color: If you like the same color most, you do not need to select the color section.

If you wish to change the main color, you may select it based on our color chart. Or you may select Free Custom and leave us a note containing your detail color requirements on the order form.

Red, golden and yellow

History: The dragon dancing dates back to the Han Dynasty (205 B.C. to 220 A.D. in China). It was already a popular event during the Song Dynasty (960-1279 A.D. in China).

Handicraft: This long history workshop has provided worldwide artists and dancingrs with top dragon and lion dancing costumes for over 120 years. This dragon is Handmade by the finest traditional craftsmen of this workshop.

Characters:
1. The dragon glows amazingly in the dark, so it can be used both at daytime and at night, twice the use of the normal dragon;
2. Lightweight, easy handle, very durable;
3. Style: traditional Chinese southern glow in the dark dragon.

Uses: Big event celebration, happy festival celebration, grand opening and business promotion, Top professional dancing competition, martial arts practice and performance, professional dragon dancing competition, display, decoration, collection and stage performance.

This complete set of top quality dragon dancing costume contains the following parts:
1. The luminous big dragon head;
2. The luminous long dragon body;
3. The luminous dragon tail;
4. The luminous leading dragon pearl;
5. The framework.

Free gifts:
1. Dragon dancing Performance Instruction DVD
2. Dragon dancing Accompany Music CD
3. Eye-catching gold ball which is tied on the head as the beautiful decoration: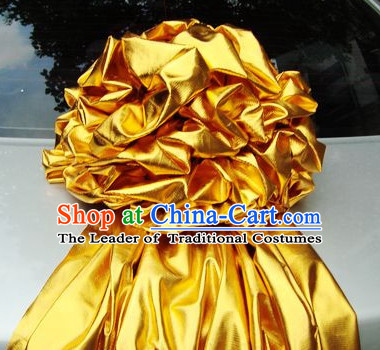 3. The following dragon dancing performance banner which values $100:

.