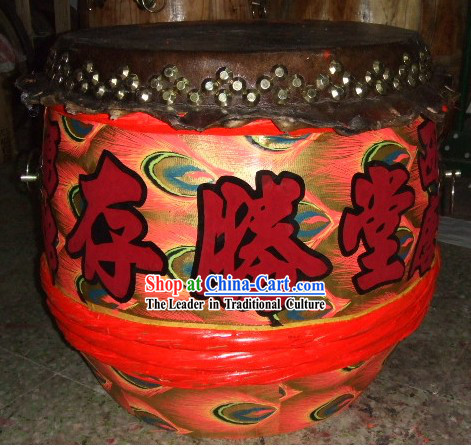 Material: top wood and cowhide

Diameter: 22"

Height: 22"

Pattern: flying dragons, cloud and your troupe name

Handicraft: Handmade and painted

Character: this drum shines beautifully under the fluroscence in the dark

Use:
1. professional dragon dancing and lion dancing performance
2. big festival celebration
3. party

The drums in the pictures are specially Custom-made for a very honorable Sifu. For your drums, the troupe name on the drums will be your troupe name or the words that you request.

Luminous color in stock: silver, yellow, orange, purple, green, pink, blue, gold and so on. Except black color, other colors are all in stock. Please leave a message containing your color chice on the order form.

Delivery: 1-17 days FREE worldwide shipping

Larger drums such as diameter 24", 26", 28", 30", or ever bigger drums are also in stock. The delivery fee of this drum is on the Tailor-madeers. Feel free to contact us at service@china-cart.com to confirm the delivery fee to your place before ordering.