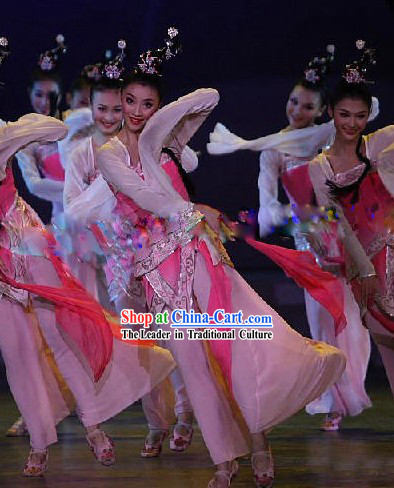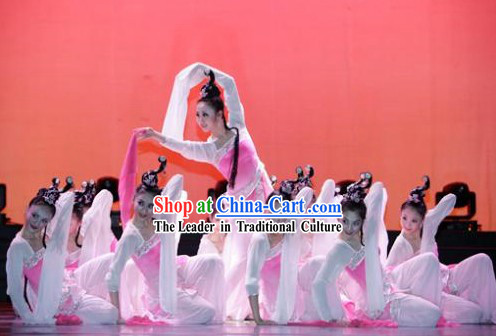 This is the Taoli dancing Competition version of Tao Yao. The CCTV version is the shorter, modified version of this. The first three minutes are different in the CCTV version. In any case, I still LOVE this dancing. It's probably the first dancing that can be compared to Ta Ge.

The name Tao Yao or Peach Blossoms comes from a poem aluding the blooming peach blossoms to prosperity of the household. Peach is the symbol of fertility and prosperity, thus in the poem, it says that "Look how strong the peach tree is, the blossoms are heavy in its branches, the girl that will be married shall bring happiness and prosperity to the household."

Delivery: 1-7 days Free shipping worldwide by DHL, UPS, EMS or FedEx

Handicraft: Well handmade by top traditional tailors team

Fabric: Various top quality natural fabrics

Size: All listed sizes are in stock. And you may choose it based on the size chart.

Color: You may select Same if you like the original color most. If you prefer to change the main color, you may select another color based on our color chart.

Free Made to Order Service: If you prefer to let the top traditional tailors team specially customize it for you, you may select Made to Order on the color/size section and leave us a message containing your color requests or/and your measurements of height, weight, bust, waist and hip on the order form.

This beautiful costume is suitable for the show, halloween, dancing, filming, performance, parade, party, presentation, ball, banquet, homecoming, birthday and festival celebration.If you choose to Made to Orderize, it takes 1-2 weeks for our top traditional tailors team to specially make one set for you. If you need to receive it urgently, feel free to leave us a note containing the receipt date or contact us at service@china-cart.com. Then we will help you receive the item in time!