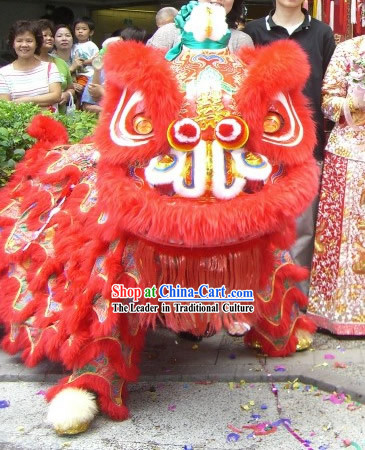 Color: You may simply select Same if you want the exact same clothing in the picture. If you want to change the main color, you may select it based on our color chart.

Uses: This dress is suitable for wedding, show, graduation, prom, party, ball, parade, dancing, performance, banquet, homecoming, halloween, birthday and festival celebration.

P.S. If you prefer to let our top traditional tailors specially customize it for you without extra cost, you may select Made to Order on the size or/and color section and leave us a message containing your measurements (height, bust, waist, hip) or/and color requirements on the order form. It takes additional 1-2 weeks to finish. We are also very excellent in custom tailoring. Feel free to email us the picture/design at service@china-cart.com. lucky red

Material: Pure silk framework, natural long sheep wool

Use:
1. professional international lion dancing competition
2. happy celebration
3. Top professional dancing competition
4. Martial arts practice and performance

Size: No.2 which is suitable for most adult (Length of the lion tail: 90"; Width of the lion tail: 57"; Size of Top handmade lion head: 26"*26"*24")

Made to Order-made size: If No.2 is not your size, please leave us your height and weight on the order form. This Then we will send out the right size lion to you.

Weight: 12.90kg

This item includes the following parts:
1. Top handmade lion head
2. the long sheep wool lion tail
3. Top natural long wool lion collar
4. two sheep wool pants
5. two pairs of shoes covers
6. the folk music CD of the lion dancing
7. the Valuable Teaching 2 DVD of Chinese Dragon dancing and Lion dancing Performance
8. the Traditional Silk Red Lucky Scroll which values 98

Characters:
1. marvellous handicraft details of Chinese top traditional craftsmen who have been making lions for over 40 years
2. top long natural sheep wool material
3. supreme delicate painting details

Delivery period: arrive at your house in 3-7 days after sending out

Be Made to Orderized with Your Own Logo Design Free: If you want the traditional craftsmen to paint the name of the bride and bridegroom on the lion, please leave a message on the order form. This Made to Order made service is free.